House Specialty ~ The Clam Bake
Clam Bake or Clam Bake Plus 6 Large Shrimp
The real thing - just the way they do it in New England!!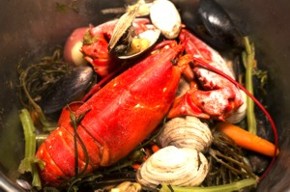 Includes; one Maine Lobster, Mussels, cup of Clam Chowder, Corn on the Cob, New England Steamers, a generous portion of Atlantic Cod fish, a hot piece of Sausage, Russet Potatoes, Carrots, Celery and Onions steamed to perfection, in layers of North Atlantic Seaweed. Served with Garlic Bread.
We furnish you with newspaper, nut crackers and forks. Crack and open your own.
If you need help, just ask and we will be glad to assist you!